Mayoralty of Baghdad aims to adopt the modernization in the studies and designs for Metro Baghdad in order to dismantle the traffic congestion in the main capital. Therefore, they have invited international companies specialized in the metro sector to submit their pre qualification to update all studies, designs , bill of quantities and schedules of full implementation of the project , which will be the first of its kind in Iraq and the latest in the region.
The metro project consist of two lines and one main hub. The first line will be in length of the (18) kilometers, which includes (20) stations and start from the Sadr City, where the hub for locomotives and it will go up to Khilani and Al-Wathba Square and then go under the street leading to the Al-Kulfae Street and ending with the Antar Square in the city of Adhamiya.
The second line will be in length of (21) kilometers, which includes (21) stations and start from the Al-Fateh Square in Al-Masabah Area through the cross of Saadoun Street, and Khilani Square to reach Al-Wathba Square towards Al-Mansour Street via Damascus Street.
The line will break into two sections near Baghdad International Fair:
- Towards Al-Mansour and Al-Washash area 
- Towards Al-Bayaa Street, across South Street and ends at Sharjah intersection.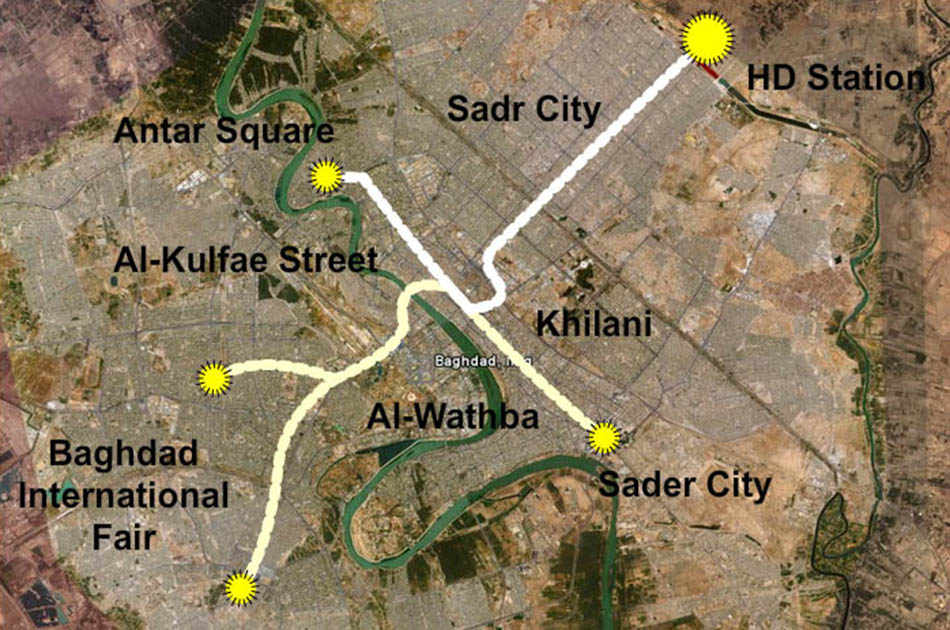 The establishment of the metro network will contribute to the solution of a large part of the problem of traffic congestion experienced by the streets of Baghdad because of the constant increase in the number of cars that entered Iraq since the fall of the former regime in addition to this project that reduces the rates of high-pollution materials (hydrocarbon) toxic impact on the atmosphere environment and the capital of car exhaust emissions.

Studies show that Baghdad is one of the fastest growing city in the world with a population of approximately (6) million in (2008), the rate of population growth is a composite (2.4) per year, while the expectations for access to the population (10.5) million by the year (2030) which made the Mayoralty of Baghdad to consider seriously the adoption of mass transit through the means of transport and to encourage people to use air-conditioned underground stations, as well as reduce the entry of vehicles and buses to the city.