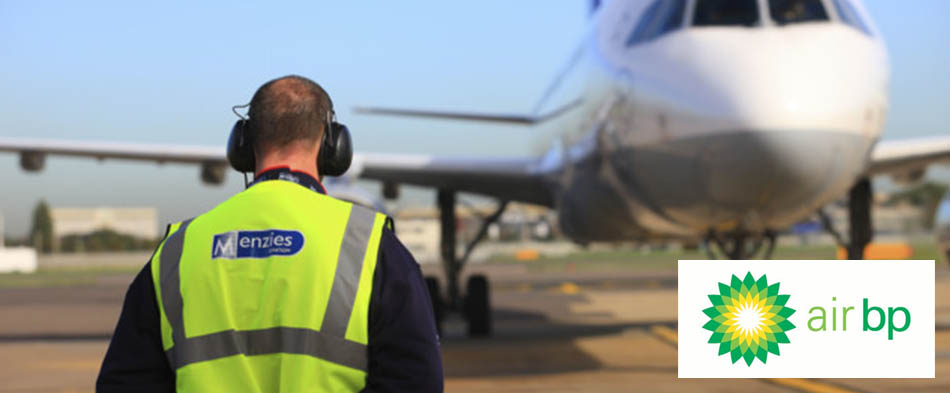 Our partnership with Menzies and Air BP began in 2013 when they entered into service providing their expertise with a range of activities such as baggage and cargo loading/unloading, cargo handling, aircraft marshalling and many more.
Ramp Handling
Receiving an aircraft upon arrival and preparing it to depart again is a major undertaking, which requires the completion of numerous overlapping processes timed to fit seamlessly within the schedules of our airline customers.

Menzies Aviation sets the highest standard in delivery of this complex service, conveying passengers, luggage and cargo to and from aircraft with clockwork precision, whilst simultaneously tending to a range of technical needs: in short, delivering excellence from touchdown to takeoff.

Cargo Handling
Approximately 110 million tonnes of Cargo are transported annually by air around the world. Given the premium nature of these shipments, Menzies's cargo customers need a service which is reliable, secure and comprehensive.

At more than 30 airports globally, Menzies act as a provider of; Ramp Transfer to and from aircraft Receiving and break up of cargo – Real-time track and trace facilities – HERMES IT solution – Electronic communication with airlines and forwarders – e-freight capability loading/unloading, warehousing, screening and onward logistics services which are crucial to their businesses, and in which they can have total confidence.

Technical Support
In the course of conducting their everyday operations, each airline will inevitably run into situations which require specialist skills and equipment to navigate.

Menzies Aviation offers a suite of such services at stations around the world, ranging from aircraft de-icing, to exterior washing to cargo container repair. Responding to the needs of our customers, providing regionally relevant technical support which allows them to focus on meeting their core commitments to passengers.

Passenger Services
Welcoming passengers, and meeting their needs before or after a trip, are responsibilities of the utmost importance in the eyes of our airline customers.

Menzies accepts that responsibility at more than 140 airport locations across the world, supporting millions of passengers each year from the check-in desk to the runway – and back – on behalf of their airlines.

Executive Services
The experience of air travel can be greatly enhanced by the availability of the right, premium service at exactly the right time.

Menzies offer a varied range of such services, including passenger lounges, VIP meet-and-greet and baggage delivery at key locations across our network, adding a level of comfort and convenience which transforms passenger journeys for the better.