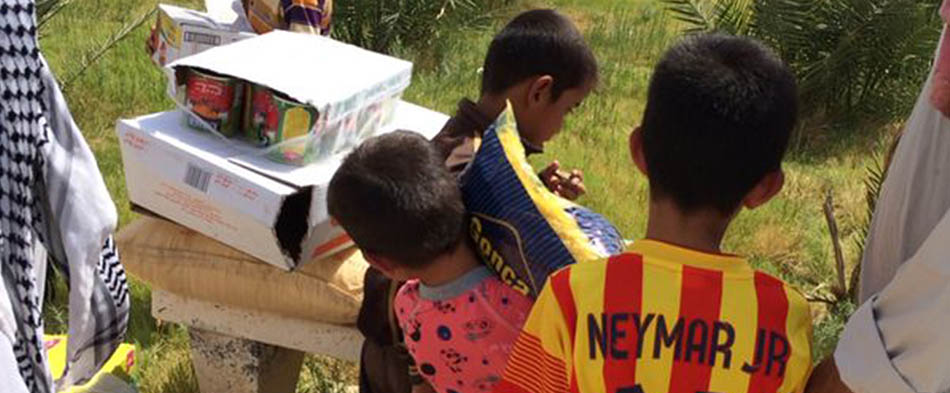 Al-Burhan Foundation strive to remain in the hearts and minds of the Iraqi people via their commitment to the long-term growth and prosperity of the great nation of Iraq. Moreover, ABF is equally committed providing short-term desperate aid to Iraqis up and down the country.
In July 2014, following discord and violence in the North of Iraq, over 300 Iraqi families were forced out of their homes in Mosul, seeking refuge and safety in the Holy City of Najaf. Taking place during the holy period of Ramadan, these Iraqis were deeply unsettled and becoming more and more despondent at their inability to adequately feast once their fast had ended at sundown.
Such inability was recognised by ABF, who sought to take immediate action to allay the fears of families that had already experienced unbearable hardship. During the holy month of Ramadan, ABF relocated the families to the Sayida Ruqaya Shrine on Al-Khawarnaq Street and continued to provide aid.
Within hours ABF staff and management had made arrangements for a large scale delivery of ingredients and food items to these families. Having established a kitchen on the premises The Foundation began cooking and preparing meals for the families once the sun had set and their fasting period had finished. Able to pray and feast in the absence of fear and persecution, the families rejoiced.
ABF sustained this charitable push for all of Ramadan, also arranging for the displaced families to be accommodated and provided fresh clothing, striving to keep their discomfort to a minimum. The Foundation remains committed to the plight of any and all Iraqis that have been victimised in any way.